At NV Play, we understand that users have different workflow and display preferences, so several scoring features can be customised for personal preference across all matches, before they begin.
To do so, go to the Tools -> Configuration -> Scoring tab to open this dialog and set these options, which are explained below, as either ON (ticked) or OFF (unticked), then click OK to save and exit: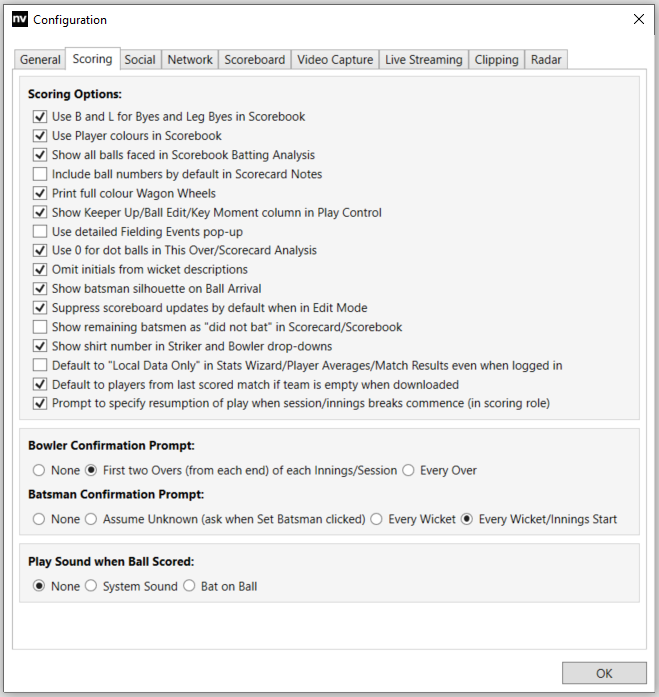 The explanation of the ON/OFF settings for these configuration options are:
If Use B and L for Byes and Leg Byes in Scorebook is OFF, then a triangle and an upside-down triangle will be used, respectively, instead
If Use Player colours in Scorebook is ON, each player's batting and bowling analysis will use a different colour, otherwise all of these will be black
If Show all balls faced in Scorebook Batting Analysis is ON, then dot balls (.) will be included in this view (or 0s – see below), but if not then just runs scored
If Include ball numbers by default in Scorecard Notes is ON, then the over.ball number of any scorecard note will also be displayed
If Print full colour Wagon Wheels is ON, then these will print in full colour, otherwise just in black
If Show Keeper Up/Ball Edit/Key Moment column in Play Control is ON, these three buttons will show in the Play Control panel, or it will remain hidden
If Use detailed Fielding Events pop-up is ON, double-clicking on a fielder's name in the basic Fielding panel will open this dialog for the coding of additional fielding data
If Use 0 for dot balls in This Over/Scorecard Analysis is ON, a 0 will be used instead of a dot (.) in This Over and, if Show all balls faced above is also ON, then also in the Scorecard/book Analysis
If Omit initials from wicket descriptions is ON, the dismissal information will only show a player's surname, rather than their initials as well
If Show batsman silhouette on Ball Arrival is ON, this image will be displayed to help code the ball arrival points, including switching between left- and right-hand batsmen, but will otherwise be blank
If Suppress scoreboard updates by default when in Edit Mode is ON, changes made after clicking Edit will not be shown on the scoreboard until it is clicked again to exit Edit Mode
If Show remaining batsmen as "did not bat" in Scorecard/Scorebook is ON, this notation will be added to all batsmen who did not bat in each innings, otherwise these will remain blank
If Show shirt number in Striker and Bowler dropdowns is ON, these will be displayed ahead of a player's name to help identification, or only the surnames will be shown
If Default to "Local Data Only" in Player Averages/Stats Wizard even when logged in is ON, the local versions of each match will always be used, even if these are different to the server versions
If Default to players from last scored match if team is empty when downloaded is ON, teams will automatically pre-populate with the players from their previous match when creating a new one
If Prompt to specify resumption of play when session/innings breaks commence (in scoring mode) is ON, a prompt to specify the time play will resume will automatically appear at these breaks
The Bowler Confirmation Prompt will automatically appear as required, so either never if None is selected, for the First two Overs of each Innings/Session, or for Every Over. Similarly, the Batsman Confirmation Prompt will automatically appear as required, so again either never if None is selected, Assume Unknown will manually open the prompt after clicking Set Batsman, at the fall of Every Wicket, or at the fall of Every Wicket and for both opening batsmen at the Innings Start.
The Play Sound when Ball Scored option can be set to None, System Sound, or Bat on Ball, with the latter two also requiring the computer volume not to be muted for the sound to be heard.
Please watch the below video that also explains the various scoring configuration options: