At NV Play, we understand that sometimes time is of the essence, so we allow multiple matches to be downloaded, with or without video, consecutively – so that the user can do other things.
To do this, go to File -> Bulk Download Matches to open the Select Matches dialog box, use the date range or filters across the top as required (and/or tick Dwnld Reqd Only to show only those matches not already in the local database), hold down the Shift key to select a range of matches or the Control key to select multiple individual matches, then click Bulk Download (X Matches) to begin the download process:
A progress box will display during download and once finished the Bulk Download Complete prompt will open: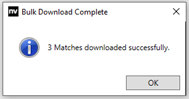 If video from the selected match(es) is also required, tick Download Video Now before downloading, and once the match(es) have downloaded a comparison with the server will run before the Download Video from Server dialog will open (as per the Open Match -> Download Video Now process). Tick the required video types and, if required, change the default Download all video radio button to Download selected players only, select the player(s) from the below list, and click Download Now to begin the video download process: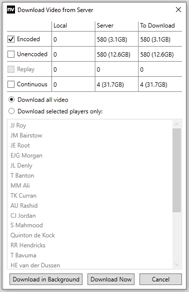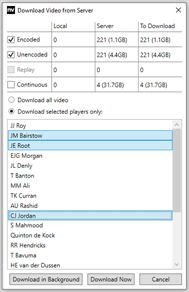 The video will download from all selected matches in the following order, and will complete each stage backwards (i.e., last innings of a match first), in turn:
Encoded Highlights (4s, 6s, and Wickets)
Encoded Non-Highlights
Unencoded Highlights
Unencoded Non-Highlights and Replays
Continuous Videos
Once all selected video for the selected match(es) and/or player(s) has been downloaded, the Download Complete prompt will appear: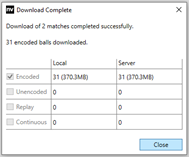 Click Close to continue.