At NV Play, we understand that during a live match a user needs quick access to support material and to report an issue, so we have built this into the NV Play Cricket software and integrated this with our online support platform (http://support.nvplay.com). This document explains how to access this material, report an issue, and other related features accessible via the Help menu: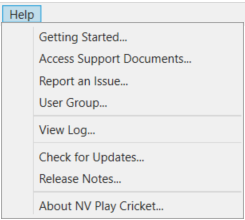 Support Material
The first option on the menu, Getting Started, links to a Quick Start Video that covers the basics of scoring a match: https://support.nvplay.com/hc/en-gb/articles/360052983634-Quick-Start-Video
The Access Support Documents option links to the Knowledge Base section of our online support, here https://support.nvplay.com/hc/en-gb/categories/360004035693-Guides, where you may be now, and from where you can browse to any of the ten sections of documents.
The User Group option links to our online community forum, https://support.nvplay.com/hc/en-gb/community/topics, where you can engage with other users via General Discussion... And also send us your own Feature Requests!
Finally, previous Release Notes can be accessed from https://support.nvplay.com/hc/en-gb/categories/360003984814-General-announcements, with the most recent at the top of the list – and this document will also be a Featured Article on the overall http://support.nvplay.com platform.
Reporting an Issue
In case there is a problem with NV Play Cricket, we have an efficient process to obtain the information we need to diagnose it with the Report an Issue feature, which will open this dialog box: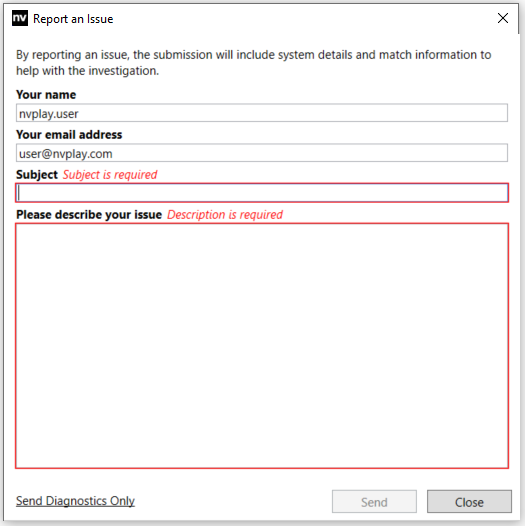 Your name and Your email address will populate automatically from the active login and user details, but update these if required. Complete the Subject and Please describe your issue fields, the latter with as much detail as possible, which may be limited during a live match, and click Send: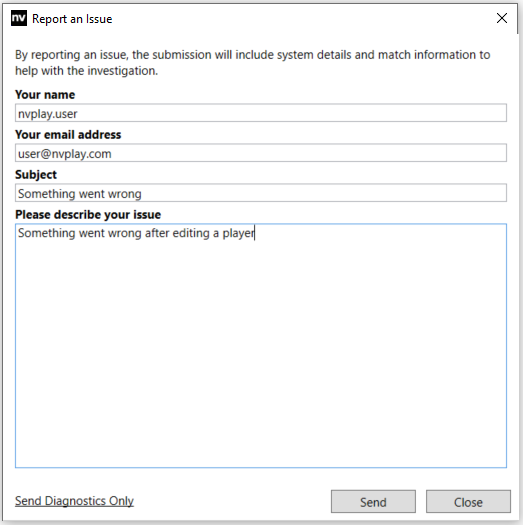 This action will log a ticket with the NV Play support team and send the relevant information from the laptop. Alternatively, if you are advised by phone or email to send this laptop information without a subject or description, simply click Send Diagnostics Only. In both cases, our support team will respond as soon as possible.
Other Options
The remaining Help menu options will rarely be used, but include View Log to open the Log Viewer dialog, although this has been improved with the above Report an Issue process. Check for Updates will do precisely that, and either confirm that you are running the latest version OR prompt you to close and re-open the software to download the update. However, as the latest version is now detected when opening NV Play Cricket the first time, there will be a message about not being on the latest version if a newer one is available, so the software should be closed and re-opened then. About NV Play Cricket will open a dialog with the current version number, who the version is Licensed To, the current Machine Name, and also links to the Check for Update process.
Please also watch the following video explaining the Help menu: