At NV Play, we want our customers to have the best possible cricket scoring, streaming, and analysis experience possible, but there are some things that users can do themselves to help us deliver this result. Here are some tips to maintain the performance of the NV Play Cricket software:
Regularly check that all Windows Updates have been done, and schedule them to be done outside of match days/times rather than turning them off completely, unless they will be manually installed
Regularly check for and install any relevant Device Driver updates, e.g. for video capture devices or printers. When possible, use the device drivers provided by the computer manufacturer (especially for Display Adapters) as Windows Updates do not always have the latest versions for all hardware.
If NV Play Cricket is not running as fast or smoothly as it should, especially with regard to video, check if any Anti-Virus software installed is interfering and, if so, add NV Play Cricket to its exceptions
If NV Play Cricket is being used to record ball clips, and especially continuous video, regularly check the available hard drive space before starting a new match, as a hard drive getting close to full will affect laptop and software performance. If necessary, use the File -> Export Match(es) function to store matches with video on an external hard drive, and delete at least the video from the local hard drive (the File -> Import Match(es) function can be used later to re-import these matches with video)
Regularly synchronise NV Play Cricket's local database with the server, so that all new or changed data relating to Organisations, Teams, Players, Venues, Officials, Match Types, Competitions, and Fixtures is downloaded, which only takes a few seconds. Click File -> New Match, File -> Start Match from Fixture, or Tools -> Edit Database and Yes to the Server Changes prompt:

If you are not sure your local database is fully synced, or you are instructed to do so by NV Play, it is possible to re-download all the server information, rather than just the new or updated entities. To do this, go to Tools -> Edit Database, click Not Now if the above prompt appears, then from the Check for Server Updates dropdown at the bottom left of all the tabs select Force Full Server Sync:

A progress box will appear, take about 30 seconds, then on Sync Complete click Close:


Software Updates
Additionally, we are constantly improving NV Play Cricket and will release software updates a few times each year, and the user must follow the below process to ensure they are on the latest version.
When an update is available, a banner message will be displayed above the login dialog:

NB: If login is attempted at this point, the dialog will also display a warning message that the user must update to the new version.
Click Continue without Login, close NV Play Cricket, re-open it from the Desktop icon or Start Menu (but not from the Taskbar), and the update will begin to download: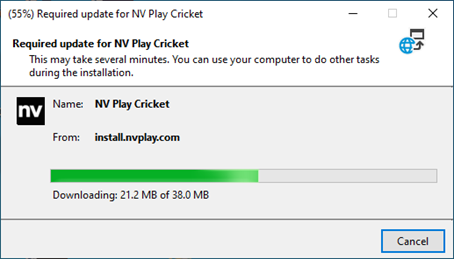 Once completed, NV Play Cricket will open at the login prompt as usual. The version number can then be checked by going to Help -> About NV Play Cricket -> Full Version number: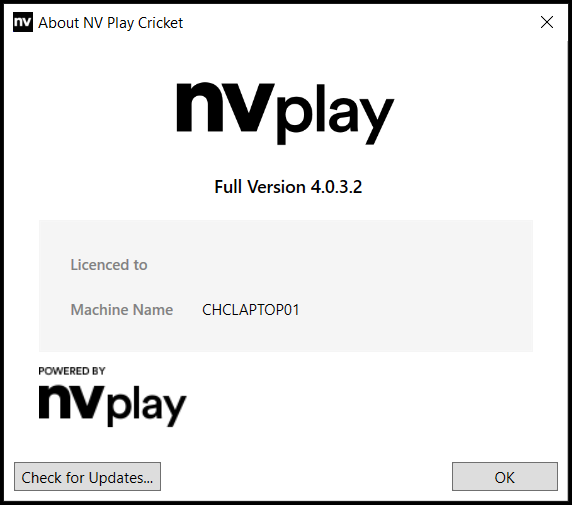 The Full Version number will match the number in the release notes published on this platform at the time of the update, and Check for Updates can also be clicked to triple-check that the latest version is installed
The release notes document will contain a bullet point list of new features, improved functionality, and bug fixes in each update, and identify those items which have additional documentation and/or videos also published on this platform
Healthy Laptops and CPU Reduction
In addition to the above, even powerful computers need good care and can experience CPU issues while live scoring, capturing video, and live streaming, depending on the operating environment and usage. So, here are some more recommendations to maintain a healthy laptop and reduce CPU load:
Regularly do all Windows Updates, especially before match day, so that these are always up-to-date

Regularly check the manufacturers website for any Device Driver updates, as Windows Updates may not include these immediately

A

lways use a

hardwire internet connection

where possible, as a

Wi

F

i

connection

can be unreliable

A minimum network upload speed of 10mbps is recommended, but hopefully this can be faster

Always have the laptop plugged into mains powe

r while scoring and streaming

Do not have the live stream open in a

web-

browser (

i.e.,

YouTube or Match Centre)

on the

laptop

Do not run other applications on the laptop while scoring and streaming

,

just NV Play Cricket

Choose the Windows 10 High Performance plan
Clean the laptop's fans and vents and ensure these are well ventilated while scoring/streaming