When installing NV Play Pro Cricket Scorer/Play Cricket Scorer Pro for the first time, a Windows Security Alert popup is likely to appear, indicating that Windows Defender Firewall has blocked some features on all Public and Private Networks: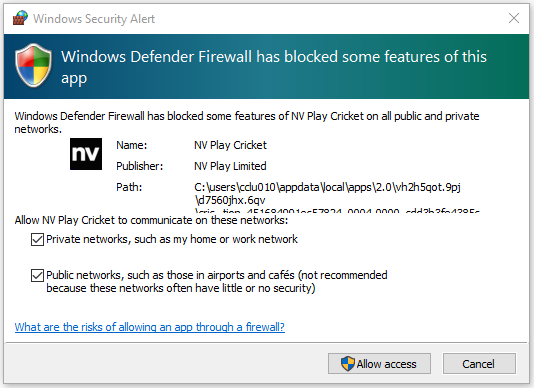 Please ensure that both the Private Networks AND Public Networks checkboxes are ticked before clicking Allow Access. This measure will ensure NV Play PCS/PCS Pro works as expected when connected to different types of networks that may be encountered or used at different venues.
If both checkboxes are not ticked on installation, then NV Play PCS/PCS Pro can be allowed on the non-selected (probably Private Networks) option by going to the Control Panel -> System and Security -> Windows Defender Firewall dialog and selecting the Allow an app or feature through Windows Defender Firewall option from the left-hand menu. Next, scroll down the list of Allowed apps and features to the "cricket.exe" file (or files, as there may be more than one version), click Change Settings and tick the corresponding Private checkbox(es):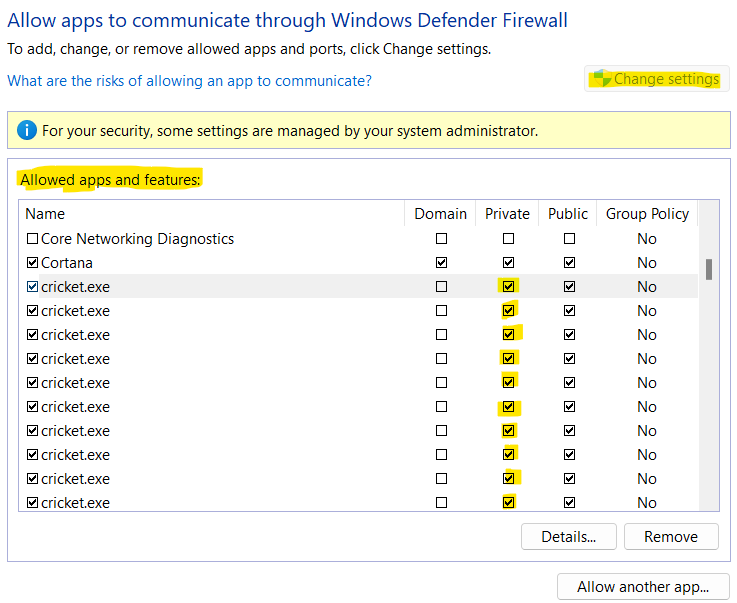 To save these changes, click OK below the dialog shown above.
NB: If other Anti Virus is installed, please also ensure that NV Play PCS/PCS Pro is added to its exclusions, as explained in this document: https://support.nvplay.com/hc/en-gb/articles/7423238109209-Adding-NV-Play-Pro-Cricket-Scorer-Play-Cricket-Scorer-Pro-to-your-Anti-Virus-exclusions.