Adding Overlay Graphics to Video Highlights
This document explains how overlay graphics can be added to the video highlights, and other related processes, e.g., manually re-encoding these web clips for older matches.
Overlay graphics on video highlights are turned-on by going to the Tools -> Configuration -> Clipping dialog and ticking the Enable Overlay Graphics on Web Clips checkbox (then OK to save and exit):

NB: If the incoming video feed already has score overlays, e.g., from a broadcast feed, please ensure that this checkbox is unticked to avoid a 'double overlay' on video highlights.
The overlay graphic will then be applied to the web clip that is uploaded to the Match Centre and Match Portal. If a ball is edited so that its overlay graphic changes, the web clip will be automatically re-encoded and re-uploaded with the updated information, as will all subsequent balls that are affected by the change. This process will also occur if a ball is deleted and there are subsequent balls consequently affected.
When opening a match with Capture/Edit Video enabled, PCS will detect whether the match contains overlays on web clips or not and update the user settings (if required). This is to ensure that the web clips are created consistently for an entire match, even when changing machines.
Should the user wish to apply — or remove — overlays for a match, they can simply open the match and enable or disable the Tools -> Configuration -> Clipping > Enable Overlay Graphics on Web Clips setting. PCS will then prompt as to whether the user would like to re-encode all ball clips.
Or, to re-encode ball clips manually, go to Video -> Re-encode Ball Clips: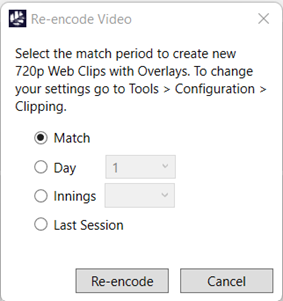 Video Package Manager can be used to create packages using Web clips, or clean packages without overlays. To create a package without overlays, select the Use unencoded video only checkbox in Generate Highlights Package: