Status Bar network and video input icons
The Status Bar (along the bottom of the NV Play Pro Cricket Scorer/Play-Cricket Scorer Pro main interface) includes a 'traffic light' system indicating the health of both the internet connection (useful for Live Streaming and video uploads) and the video input network (useful for IP cameras and other network video), at the right-hand edge. For example, in this screenshot the internet connection icon is red indicating bad health and the camera icon is green indicating a healthy network for the video input, e.g., IP Camera:

A bad internet connection can produce poor streams and slow web clip and continuous upload speeds. A bad video input connection can produce poor video for Video Display, Web Clips, Continuous Capture and ultimately Live Streams. Networks will fluctuate over time but if you are consistently experiencing red icons for Internet or Video Input then we recommend investigating your network to resolve any issues.
Key points:
If there are any timeouts for the internet connection, or camera network a warning exclamation mark will display
Hovering over either the internet or camera network icons will display a tooltip containing the latency in the video input(s) and the corresponding rating, e.g.: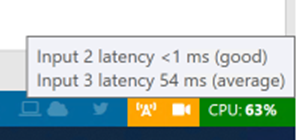 Latency is a measure of the amount of time it takes for a 'ping' to send a packet of data to either the internet server (Google) or IP Camera and to receive it back. A green status indicates a latency of <80ms, an orange status a latency of 80 - 100ms, and a red status is a latency of >100ms.
Live Video Statistics
Further networking details are found under Live Video Statistics by either opening View | Video | Live Video Statics or by clicking on the Internet or Video Input icons. This is a helpful tool for troubleshooting networking or video quality issues. In general, CPU, Network Latency and Video Source Frames Per Second should remain black to ensure excellent video quality is experienced.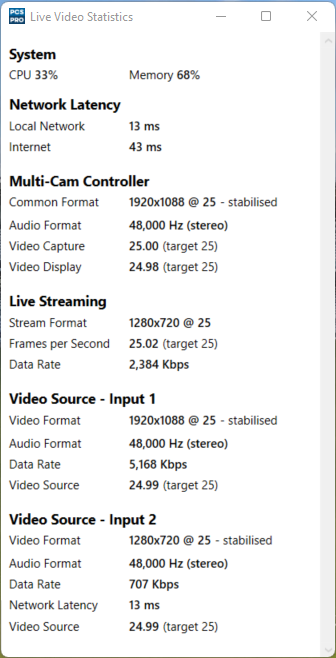 Health Reports
To view network health over time, additional information is provided in hourly Health Reports. Health Reports are added each hour or upon closing the application and found in Help -> View Log, e.g.: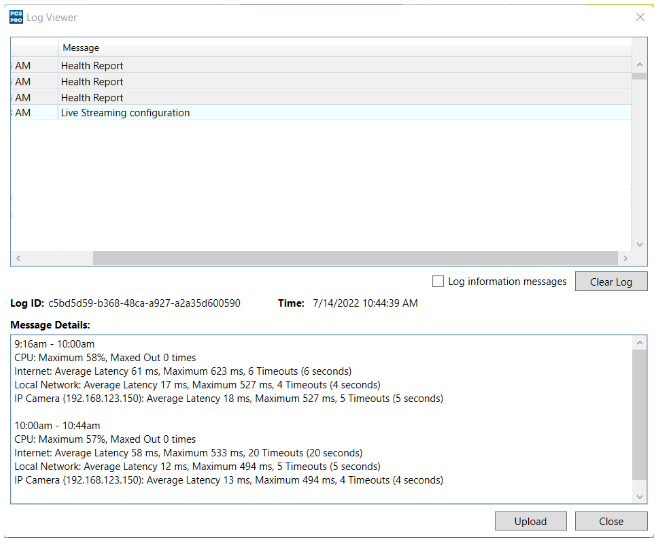 These Health Reports include:
The maximum CPU% during the hour (or part thereof) and the number of times the CPU maxed-out in this period
The average and maximum latency and the number of timeouts (including the number of second timed-out if >0) on the internet connection and any local network
All network cameras with an IP Address that can be 'pinged', i.e., IP Cameras and Network Streams
If you have experienced poor performance, poor input video or poor streaming then we recommend viewing your Health Report to identify if there were any CPU Maxed out instances or network or video input timeouts. If so, we recommend using the Video Display -> Settings cog (top-right) -> Reconnect to IP Camera option to force a re-connection to the IP Camera.