The scoring, editing, and deleting of Penalty Runs can be done either via the Scoring -> Penalty Runs menu or the Scoring -> Pen button on both the Standard and One Click Scoring panels. Both options will open the Penalties dialog, from which the relevant Law can be selected from the Select Penalty dropdown: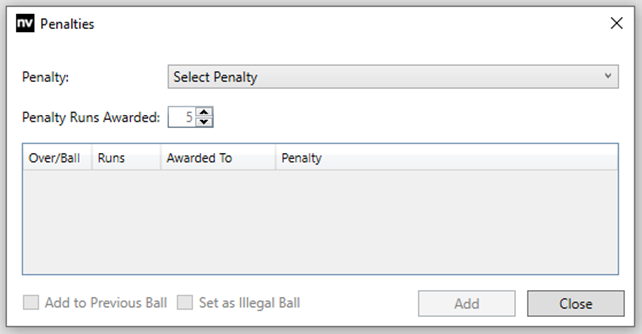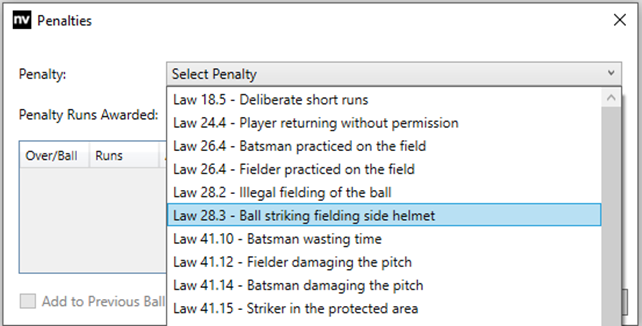 Once selected, click Add to commit the Penalty Runs, which will add the details to the above list, award the runs to the batting team (or to the bowling team's previous or next innings if they are awarded to them), and create an automated Innings Note. If the ball on which the Penalty Runs are awarded has already been scored, ensure that the Add to Previous Ball checkbox is ticked. When Penalty Runs are awarded for breaches of Laws 24.4, 28.2, 41.15, and 41.4 where the ball does not count as one of the over, the Set as Illegal Ball checkbox will be automatically ticked. On these occasions, as other runs can also be scored on the illegal ball, remember to score these (or a 0/dot) after adding the penalty.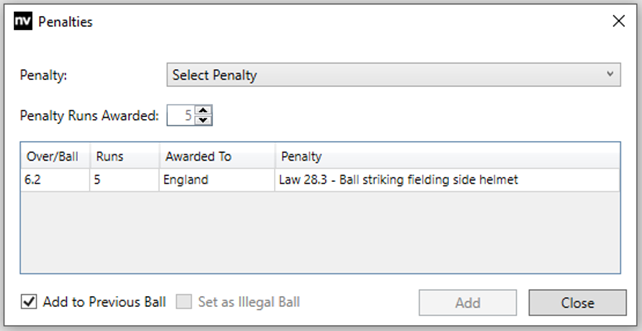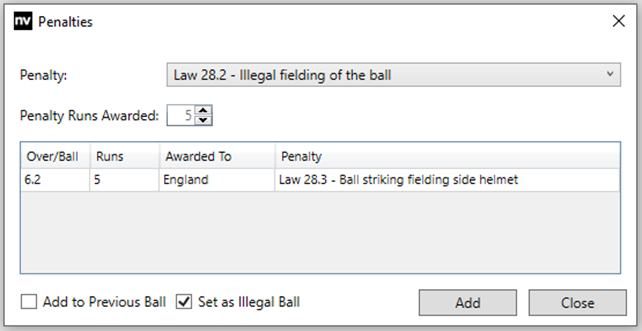 For all Law breaches, Penalty Runs Awarded will default to 5, so if this number needs to be something else (or the breached Law is not known at the time), use the Other penalty – awarded to batting/bowling side options at the bottom of the Law list, then update the Penalty Runs Awarded as required.
To edit Penalty Runs previously awarded, for example if these were initially attributed to the wrong Law or this was unknown at the time and Other Penalty was used, by reopening the Penalties dialog as above. Then, double-click on the Law in the Penalty column to re-open the dropdown list, select the correct Law, and click Close. Similarly, for Other Penalty the Penalty Runs Awarded can be changed by double-clicking in the Runs column and updating the number of runs.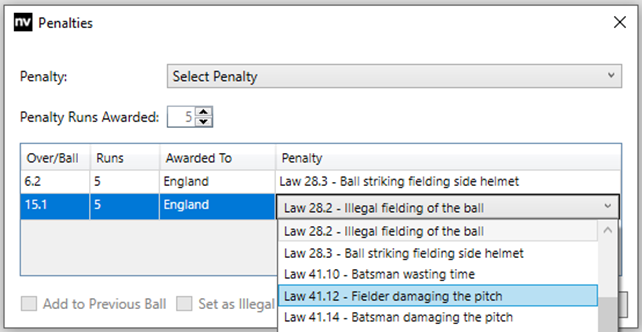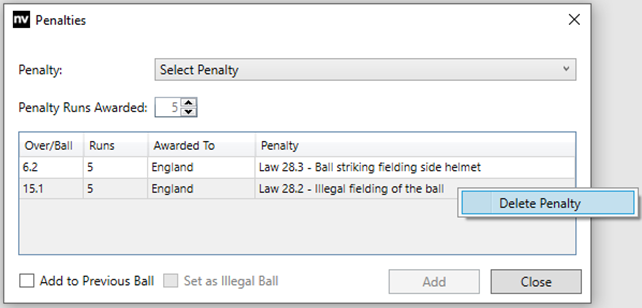 To edit Penalty Runs in a previous innings, return to that innings via the Scoring -> Innings X menu or by clicking on the appropriate score in Score Summary, click Edit and Yes to the prompt about entering Edit Mode, re-open the Penalties dialog and edit as above.
To delete Penalty Runs, right-click anywhere along its line in the list, select Delete Penalty, and Close.
Please also watch the following video demonstrating the Penalty Runs function: